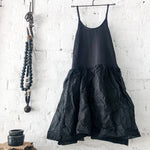 Megby Design
Why Two Birds Blue
 

loves

 MegbyDesign

;

MegbyDesign is a women's clothing range that transcends season, time or age. Every piece is proudly made sustainably in India.

MegbyDesign pieces are designed to intertwine and build upon throughout the seasons and years. Each garment is simple, elegant and intended as a canvas for the wearer to interpret to express her own style.



In the hinterlands of Byron Bay MegbyDesign are on a journey of sustainability, composting excess fabrics and off cuts.